I linking up with
Ashley
for Friday's Letters!!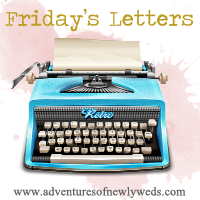 Dear Hubby, Thank you for working 12's this weekend so we can have the extra money to have the leaky pool looked at and fixed!
Dear Nathan, I am sorry that you have to start summer school on Monday, but we have to get you back into a routine for 7th grade!
Dear Resume, Please work your way up to the top of the "yes" list at every district I've applied to thus far. I'm counting on you! (Claire I'm stealing this from you! Very well said!)
Dear Mom, Thank you for being my best friend. I love our daily chats!!
Dear Olympics, Thank you for keeping me up at night watching you! I love gymnastics and swimming!!
Dear Readers, I love you, your fab!!
Have a great weekend!!!