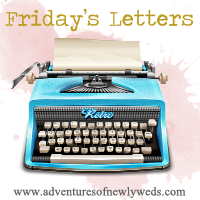 I'm linking up with
Ashley over at Adventures of Newlyweds
for Friday Letters! You should too!!!
Dear Kinder's & Firsties,
Thank you for making our first week of summer school a success! You guys rock!
Dear Father-in-Law,
Thank you for letting us clean out your old pop-up camper!
Dear Friday,
Thank you for arriving quickly!
Dear Summer,
Why did you come to an end so quickly!
Dear Dewey
(dog), Thank you for always bothering your daddy to let you out 100 times a day.
Dear Olympics,
I can't wait to watch you! GO Micheal Phelps!
Dear Rain Showers
, My Garden LOVES you!!