I am linking up with Ashley over at
Adventures of Newlyweds
! With something called Friday Letters!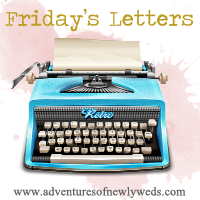 Dear Chrysler Corp, Thank you for giving hubby and I a chance to go out on a date. The DSO Symphony of Brands had TONS of good food and music!
Dear Summer School, How dare you come up so fast upon me. I feel so unprepared!
Dear Mother Nature, I love you so, except when it's nasty muggy at 7:30 a.m. I will be glad when they weather breaks for camping next week.
Dear Laundry Fairy, Will you please visit my house soon? My laundry is all washed I just HATE to put it away!
Dear Swimming Pool, Thank you finally clearing up! You are so clear and inviting now. Please stay that way while we are on vacation.
Dear Dewey & Fletcher (our furbabies), Please forgive us as we drop you off at Daycare for a week. We love you so but we can't take you on every camping trip!
Dear 4th of July, Thank you for being on Wednesday this year! I gave us two weekends for parties!
Dear Kroger, Thank you for being so patient and kind as they boy scouts from troop 308 turned in $400 from their bottle and can drive for new tents.
Dear Caribou Coffee Barista, Thank you for making the best White Chocolate Frappcino's.
Dear A/C, Why do you work so well downstairs but lousy upstairs? It's a 10 deg difference!
Dear Blog Friends, Thank you for being so patient with me. I love you guys! Have a great weekend!
Do you have any "letters" you'd like to write this week? Let's hear 'em!