Love
Ashley's
Friday Letter's! Head on over and link up!!!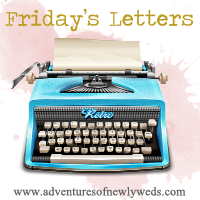 Dear Friday, In many ways you are wonderful, but today I despise you because we had to come home from vacation.
Dear Vacation, Why did you have to end so soon?
Dear Otsego Lake (Gaylord, MI), You are beautiful and we enjoyed our time with you this week.
Dear Otsego Lake State Park, I will miss you so. See you again next year, this time for a longer stay!
Dear Husband, Thank you for working your butt off today while I did some running for my mom.
Dear Nathan (son), I am glad you are going to Boy Scout Camp, but I will miss you while you are gone.
Dear Club Pet Too, Thank you for taking such good care of our fur-babies while we were camping!
Dear Leelanau Peninsula, Thank you for having some amazing wineries! I came home with a new case of wine and I can't wait to drink them all!
What are you thankful for?