Head on over and check it out!!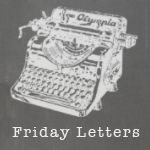 It's been awhile since I hooked up with Ashley from Adventures of Newlyweds for Friday letters!
Dear Resume, (again) Please, Please find your way to the top of the pile so I can get a new job.
Dear Hubby, I dislike you for being a pain in the ass about me turning 40!! You are a man it is different for you! Thank you for the beautiful flowers though!
Dear Boss, Thank you for having faith in me to analyze math and reading data and create my schedule!
Dear Claire
(
Live, Laugh, Love, Teach
), I miss you terribly. I currently have a HUGE room to myself but I am excited for you as you begin your journey as a 5th grade teacher! Good Luck!
Dear Mom, Thank you for watching Nathan at the drop of a hat when I ask!
Dear Nathan (My Tweenager), You are about to turn 12 (Sunday). Can we please turn back the clock and slow down a bit? I love you!!
Dear Fall TV Shows, I am excited to have new shows to watch!! The Voice, Glee, Grey's Anatomy and Private Practice.