Sorry about the double post today! I can't believe that it's the beginning of the month and time to hook up with Farley over at
Oh' Boy 4th Grade
.
Today I received the "One Lovely Blog Award" from Claire over at Live, Laugh, Love, Teach!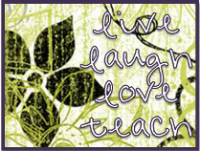 Thank you very much Claire!
I look forward to blogging everyday! I have found so many new classroom ideas, lesson ideas and freebies since I started blog stalking. I am grateful that everyone is willing to share their knowledge it has been big help being a new teacher!
Ok, so here are the rules...
After you are given the "One Lovely Blog" Award:
1. Follow the blog who gave the award to you.
2. Mention that blogger that has given it to you in a blog post .
3. Pass on the award to 15 new blogs.
4. Make a list of the new blogs so others can check them out.
And so, the award goes to.....
That was tough! I hope that everyone I gave the award to doesn't already have it. I looked at all of the sidebars and didn't see the award! Most of the blogs are newer teaching blogs! I enjoy each and every one of them.......I hope you do too!
Here a a wonderful giveaway!
Jessica is giving away her whole TPT store.......head on over and enter for a chance to win!